Thank you for your interest in a personalised 3D crossword. The purpose of this pro forma is for you to give a collection of names and words you would like to see in the crossword, from which the setter can select to design the grid and slant the clues. Some names and words may be more important than others. Please indicate priorities on a scale of 1 – 3 where '1' means very important. The date required might refer to an anniversary of some kind and is useful in planning the setter's time to accommodate different requests.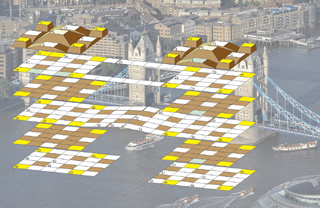 The donation will be used to maintain and develop the 3D Crossword project with BBC CiNA and RNIB. Payment can be made by cheque payable to '3D Crosswords Ltd' or through the secure PayPal facility on our website.
It is our preference to have the word list in electronic form e.g Microsoft Word, so that screen readers can be used if necessary to ensure correct spellings. If the pro forma is sent by post, please print words in black ink if possible.
Please return to: Sirius@calendarpuzzles.co.uk
Or post to Calendar Puzzles, PO Box 4823, Coventry, CV6 9FN

Thank you again,
Eric Westbrook – Sirius